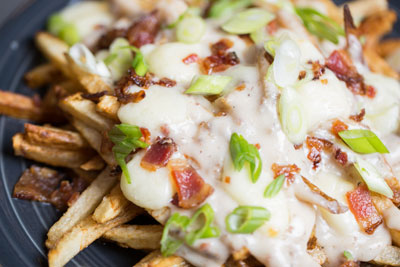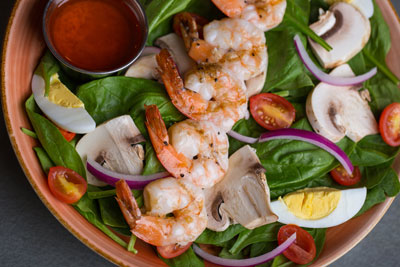 Starters
CAJUN FRIED CHEESE CURDS
served with jamaican jerk aioli
11
BACON GRAVY FRIES
hand-cut french fries with chopped bacon, cheese curds, gravy, and green onions
10
FRIED PICKLES
breaded pickle planks with house ranch
9
TUNA BITES
blackened and grilled served with green onion crema
12
CAPRESE SALAD
sliced tomato, fresh mozzarella, basil, pesto, and balsamic reduction
10
CHIPOTLE SHRIMP DIP
baked and served with corn tortilla chips
10
BUFFALO SHRIMP
Lightly fried and drizzled in house buffalo sauce served with ranch or blue cheese
11
Salads
HOUSE
spring, romaine, carrots, red onions, tomatoes, cucumbers, croutons, and choice of dressing
8
CAESAR
romaine, parmesan, and croutons tossed in caesar dressing
9
SPINACH
baby spinach, tomatoes, mushrooms, red onions, and hard boiled egg served with warm bacon dressing
9
SALAD TOPPERS
top any of our salads with the following:
ADD CHEESE
DRESSINGS
ranch, blue cheese, balsamic vinaigrette, warm bacon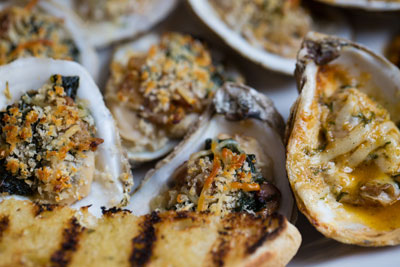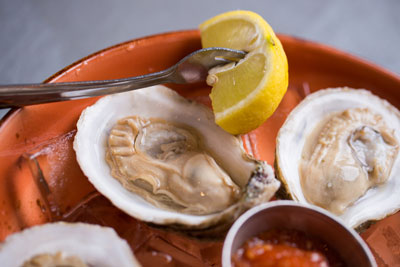 Oysters
RAW OYSTERS
with classic mignonette or cocktail sauce
FRIED OYSTERS
lightly golden fried with spicy remoulade and lemon
MP
OYSTERS KITTY HAWK
char grilled, topped with parsley, lime, parmesan and mozzarella cheese finished with a tabasco garlic butter, served with charred bread
OYSTERS KILL DEVIL HILLS
baked with prosciutto, shallots, green onions, panko, and parmesan cheese
OYSTERS NAGS HEAD
baked with spinach, bacon, garlic, parmesan cheese and panko bread crumbs
OYSTERS OUTER BANKS
combination of oysters kitty hawk, kill devil hills, and nags head, the perfect sampler
Entrees
Served with two sides:
hand-cut fries · mashed potatoes (not until 5pm) · coleslaw · green beans · mac 'n cheese
FRIED SHRIMP
a dozen fried shrimp served with cocktail or remoulade
22
FRIED OYSTER DINNER
golden fried oysters served with cocktail or remoulade
MP
MEATLOAF
two slices over mashed potatoes and green beans with brown gravy
18
MAHI MAHI
Fried, grilled, or blackened served with lemon wedge and tarter
22
YELLOWFIN TUNA
grilled to your temp and topped with pickled vegetables and soy glaze
MP
8 OZ. CENTER CUT SIRLOIN
topped with sautéed mushrooms and onions
with shrimp ADD 7
22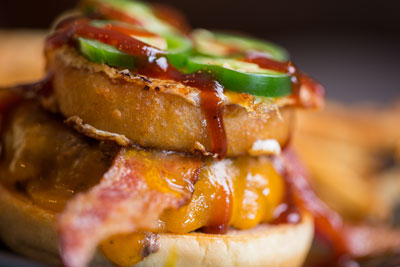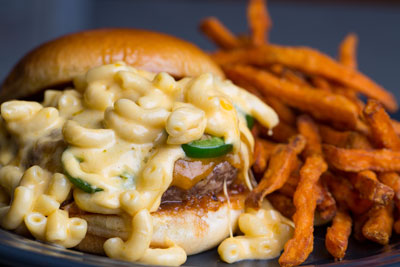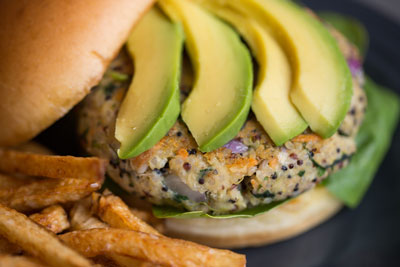 Burgers
All burgers are served medium-well on a brioche bun with hand-cut fries or cole slaw.
Try our Two Road's sauce proudly crafted from Kill Devil Rum.

SUB: SWEET POTATO FRIES 3 · ONION RINGS 3
GREEN BEANS 3 · SMALL SALAD 4 · MAC 'N CHEESE 3
Specialty Burgers
HANGOVER
bacon, hash browns, fried egg, and cheddar cheese with maple bacon jam
15
MUSHROOM MELT
swiss cheese, sautéed mushrooms
13
SOUNDS GOOD
american cheese, bbq sauce, bacon, onion rings, jalapeños, and a fried egg
15
CAPRESE
housemade basil pesto, sliced tomato, balsamic reduction, and fresh mozzarella
14
BRIE ME
bacon, brie, grilled onions, spinach, and sriracha mayo
14
BACON MAC N JAP
maple bacon jam, mac n cheese, cheddar, and jalapeños
15
BALL PARK
burger topped with italian sausage, grilled peppers and onions, and cheddar cheese
14
BLUE BISON
100% ground bison, lettuce, tomato, and tossed buffalo blue cheese
16
TURKEY BURGER
ground turkey, lettuce, tomato, and provolone cheese
13
BOSS HOG
two patties, double cheddar, double bacon, pulled pork, onion rings, and bbq sauce
22
Build Your Own
HOUSE BURGER
ADD lettuce, tomato, red onions, pickle
11
ADD CHEESE
american, cheddar, swiss, provolone, or pepper jack
1
pimento, blue cheese, or brie
2
ADD AVOCADO
when available

1.5
VEGAN BURGERS
QUINOA BURGER
spinach, avocado, and red onions
13
BLACK BEAN & CORN BURGER
lettuce, tomato, and red onions
13
BEYOND BURGER (BYO)
IMPOSSIBLE BURGER (BYO)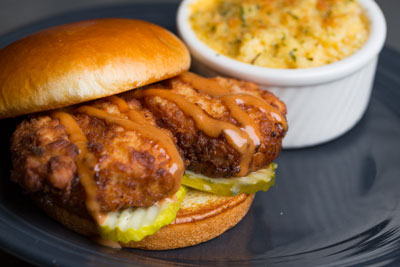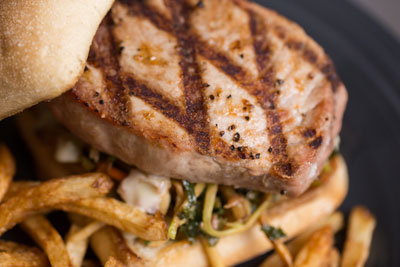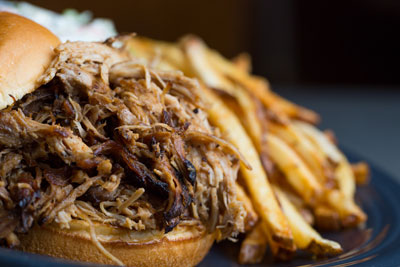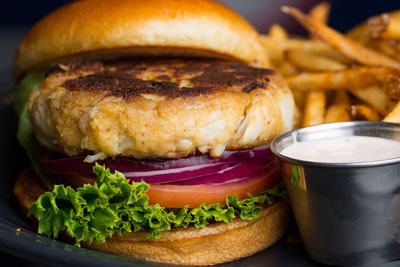 Sandwiches
All sandwiches are served with hand-cut fries or cole slaw

SUB: SWEET POTATO FRIES 3 · ONION RINGS 3
GREEN BEANS 3 · SMALL SALAD 4 · MAC 'N CHEESE 3
CHICKEN
grilled or fried chicken, lettuce, tomato, and mayo
13
CAROLINA PICKLE BRINE
chicken marinated in pickle brine, fried, and topped with Two Road's sauce
13
BANG BANG CHICKEN
grilled or fried chicken, lettuce, tomato
13
BBQ
North Carolina barbeque served with french fries and cole slaw
11
LOCAL TUNA
grilled with lettuce, tomato, and wasabi mayo
MP
MAHI
fried, grilled, or blackened with lettuce, tomato, and spicy remoulade
13
FRIED SHRIMP PO'BOY
golden fried shrimp, lettuce, tomato, and spicy remoulade on amoroso roll
15
OYSTER PO'BOY
golden fried oysters, lettuce, tomato, and spicy remoulade on amoroso roll
MP
THE PB & J DOG
all beef nathans hot dog with spicy pimento cheese, bacon, and jalapeño
9
Fillers
Please note starred items are cooked in 100% pure peanut oil. If you need them cooked in vegetable oil, please let us know! We cannot fully guarantee an allergy request will be 100% safe. Consuming raw or uncooked meats, poultry, seafood, shellfish, or eggs may increase your risk of foodborne illness